Europe is set to become the global electric vehicle market leader by 2030
E-MOBILITY
ELECTRIC VEHICLES
ELECTRIC CHARGING
SMART CITIES
Analysts foresee that European Union countries will overtake China and USA in case of the highest rate of selling electric vehicles in the next few years. The European Parliament and European Council set an agreement in June 2022 that all new cars registered in Europe will have zero-emission by 2035. The ambitious strategy also creates new opportunities for e-mobility stakeholders in the technology market.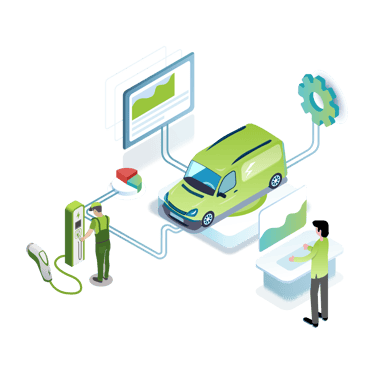 The electric car market faced severe barriers in the past three years, starting with COVID-19 when people were forced to stay at home, many factories were closed due to the pandemic, and the emerging global energy crisis in 2022 that still makes its effects feelable in 2023. Despite the financial uncertainty, the EV market is still growing in the world's leading economies. While the Chinese government invests heavily in EV startups to encourage the sale of EVs, the European Council takes radical and forward-looking aspirations to lower the number of high CO2 emission vehicles by 2030.




The sale of electric vehicles in European countries are expected to grow by 28% this year compared to 2021, when the energy crisis did not set foot. Analysts predict a nearly double increase in European sales by the end of 2027. According to Statista, the revenue in the EU-27 electric vehicles market is projected to reach $141.30bn this year.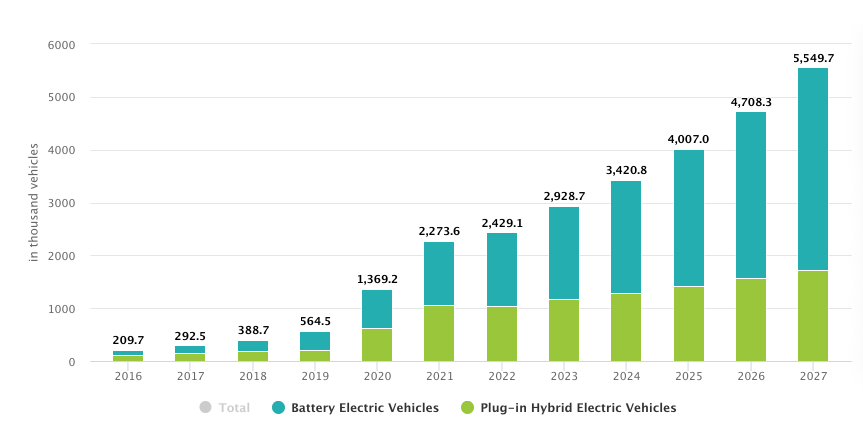 Vehicle sales in Europe between 2016 and 2027
Source: Statista
As our previous e-mobility blog post mentioned, the European Union targets 1 million charging points by 2024 and 3 million by 2029. About 240 000 new charging points are needed yearly (4 600 new e-stations per week) to accomplish the target of EU and to keep up with the explosive growth of e-vehicles owned. A recent report by McKinsey revealed that in 2021 motorists could use more than 375 000 active charging points across Europe, which still displays a slow pace in installing charging points to keep up with the EU's decarbonization plan. Last year, France and Germany were the leading countries in opening new charging points, but it is still a statement that most electric chargers concentrate mainly on two countries in Europe: the Netherlands (90,000 chargers) and Germany (60,000).

Top 5 countries with the most chargers in Europe

Netherlands (90,284)

Germany (59,410)

France (37,128)

Sweden (25,197)

Italy (23,543)


Top 5 countries with the least chargers in Europe

Cyprus (57)

Malta (98)

Lithuania (207)

Estonia (385)

Latvia (420)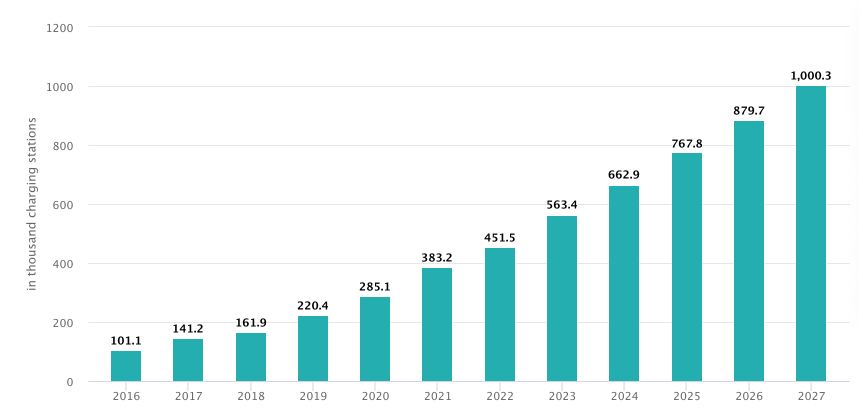 Number of charging stations in Europe between 2016 and 2027
Source: Statista

The growth in Europe varies, Northern Europe takes the lead.


Not surprisingly, Northern European countries provide proportionally more charging stations than Southern European countries; globally, it is 15% of all charging points. In Norway almost 17 000 charging points, including 3 000 fast chargers are available for electric vehicle owners, that are much needed as 79% of all new cars sold in 2022 were 100% battery-electric powered vehicles. Eight out of ten people choose fully electric instead of combustion engines; Norway is unquestionably a global leader in the electric car revolution, breaking its records each year. The EV market has also conquered the space in other Scandinavian countries, Iceland, Sweden, Denmark and Finland, followed by Western European counties, the Netherlands and Germany.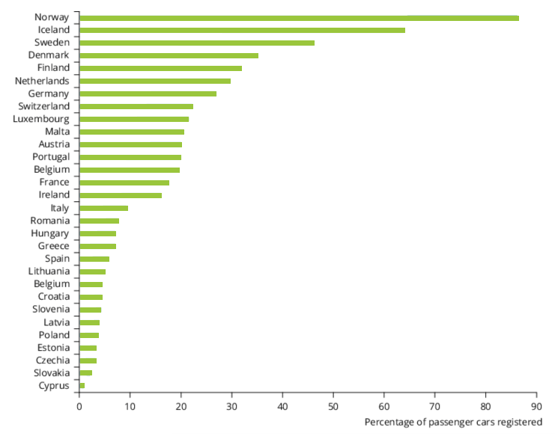 Percentage of new electric cars registered in Europe in 2021
Source: JATO


In June 2022, the European Parliament vote mandated ensuring all new cars and vans registered in Europe will be zero-emission by 2035. As Europe is becoming the global market leader in electric vehicle charging, emerging countries in the CEE region can benefit from the sustainability revolution by 2030, the next transformation is set to happen there. The leading European countries in e-mobility offered various financial incentives, such as tax reductions or free parking possibilities; analysts prognosis that countries with the least charging points will increase the number of electric mobility incentives to promote zero-emission goals.


Share this post on social media:
Read On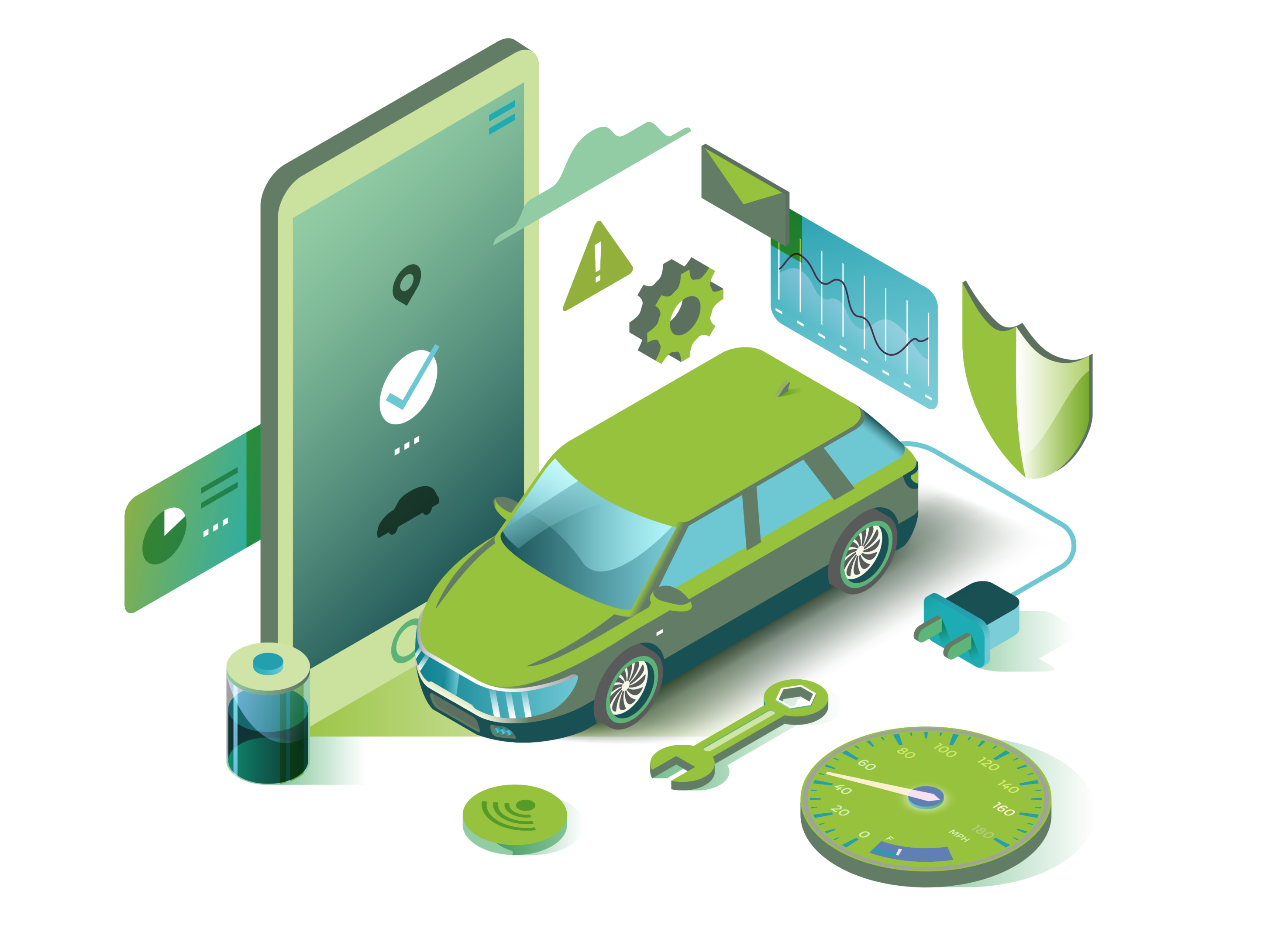 MOBILITY
E-MOBILITY
MONTU
EV
ELECTRIC VEHICLES
ELECTRIC CHARGING STATION
ELECTRIC CHARGING
Can charging stations in EU keep up with the increasing number of electric vehicles?
According to EEA (European Environment Agency), in 2019, 10% of vehicles sold in the European Union was electrically chargeable, which is nearly a double increase comparing to 2018. Despite the fact, that more and more people think environmentally consciously, the trend of electric charging...