Life at Grape Solutions: an interview with our Senior Sales Consultant, Sándor Kerekes
TEAM
SENIOR SALES CONSULTANT
Sándor is a member of our sales team and responsible for developing new partnerships and ensuring the digital transformation of our existing clients in the domestic and international markets. We asked him to tell us about his weekdays at Grape and what a senior sales consultant's day looks like.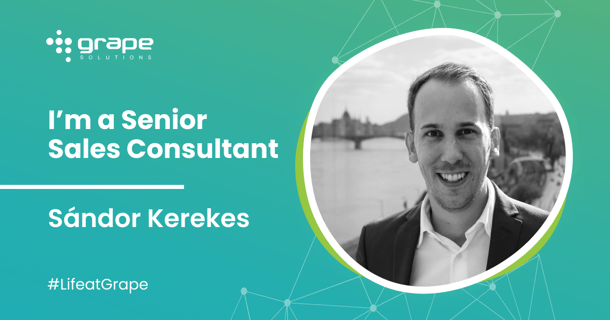 Why did you choose to work at Grape Solutions?
In my previous job as a sales manager, I had an overview of many areas (Telco, IT, software development). Some I got to know in-depth, others only superficially. After a few years, I became interested in custom software development and wanted to work for a company where it is a core activity. Grape is an excellent choice, as it has good professionals and recognised references. In addition, the development of software products is an exciting area in the company's life.

How does your role look at Grape, and how would you describe it in one sentence?
I am a Senior Sales Consultant. My role is to work with existing or potential customers to identify the business processes that are challenging for the company to operate and to think together to make the system or business process more efficient and better from a software perspective.

What skills do you think are needed for your position?
One of the essential factors is to be business-minded. Perhaps for a Sales Manager, this is more important than a deeper knowledge of technology. We need to understand how a particular business process works and what improvements might be implemented to make it better and more efficient. Good interpersonal skills, perseverance, learning about technologies and keeping them under constant review are crucial skills.

How can you motivate and develop yourself at Grape?
In addition to the various projects, I am most motivated by tasks that can provide real answers to today's challenges. The best example is Grape's mobility and energy management software, where up-to-date information is needed to respond promptly to the fast-changing energy market.

What are the three things that made you proud during your time at Grape?
For my professional and technical development. The results achieved with the Sales and Marketing team.

Why would you advise others to join us?
Grape's most significant advantage is that colleagues can try themselves at various tasks, from projects requiring custom software development to creating software products. And the implementation of these solutions can be seen in a wide range of industries, from banking and insurance to start-ups and energy companies. In addition to the above, you will be able to work in an excellent team, where you can work on professional tasks with great colleagues and participate in various activities outside working hours that will help you relax and bring teams closer together.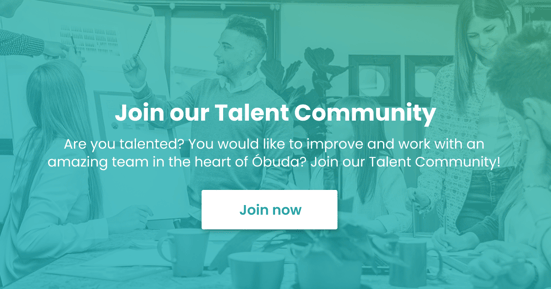 Share this post on social media:
Read On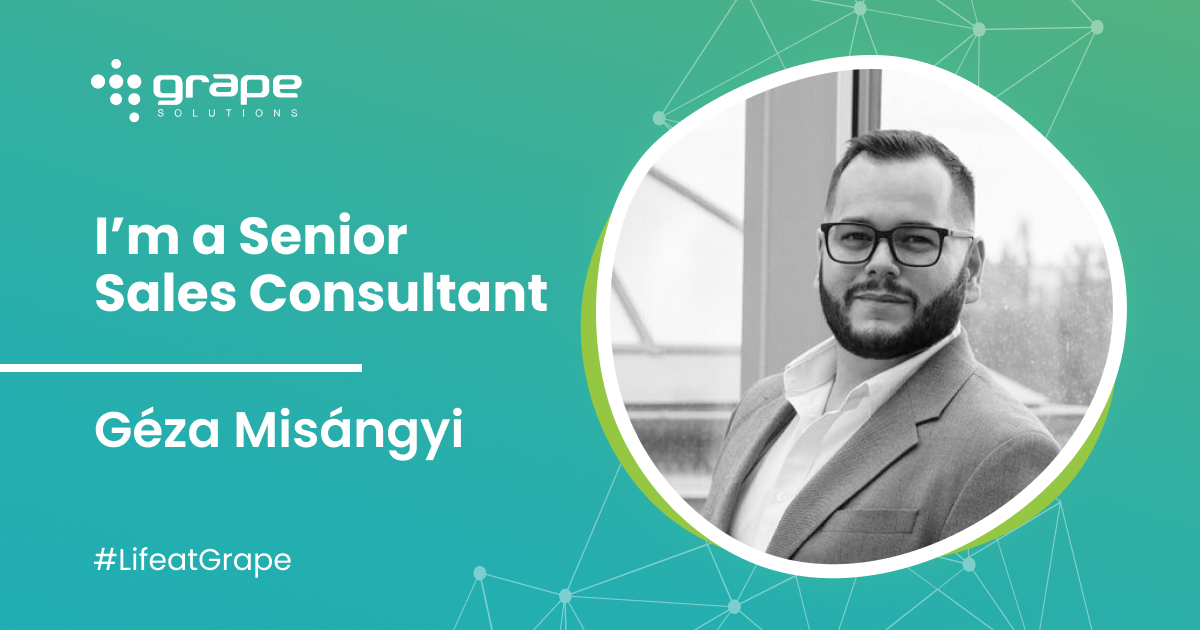 TEAM
SENIOR SALES CONSULTANT
Life at Grape Solutions: an interview with our Senior Sales Consultant, Géza Misángyi
Géza is a core member of our sales team, he is responsible for creating new partnerships and managing the digitalization of our existing clients in the CEE and Western European markets. We asked him to tell us more about his weekdays at Grape, what a day in the life of a senior sales consultant...