Life at Grape Solutions: an interview with our Recruiting Consultant, Patrícia Volkov
TEAM
RECRUITMENT CONSULTANT
Patrícia is a key member of our HR team, helping us and our partners find the perfect person for the given software development task. We asked her to tell us more about her weekdays at Grape, what a day in the life of an experienced recruitment consultant looks like.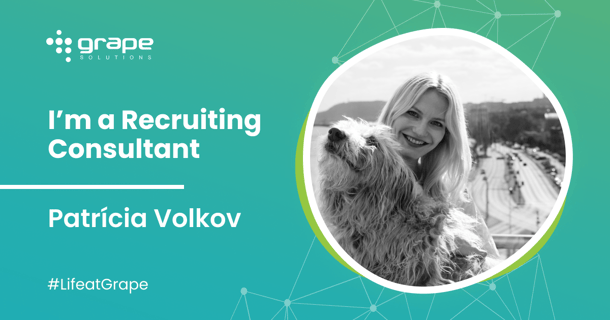 Why did you choose to work at Grape Solutions?
Earlier, I worked for a recruitment agency where Grape Solutions was a partner from the beginning. During this time, I had only positive experiences with the company, they were always willing to help with any questions that arose, and I felt that the internal communication was very fast and transparent. In addition, I have always liked the company's activities and the IT sector itself. You could also tell from their social media platforms that there was a tight-knit, extraordinary community. The mutual sympathy with the staff brought me even closer to the decision.

How does your role look at Grape, and how would you describe it in one sentence?
I work as an Experienced Recruitment Consultant and am partly responsible for the company's HR services. I recruit quality people for IT-focused positions for our partners and our company.

What skills do you think are needed for your position?
I think it's essential to have the confidence, strong communication and sales skills to present a position/opportunity to the candidate and a partner as well. I also think it is crucial to be direct, positive and have clear communication to build trust with partners and candidates. Patience, attention sharing and a strong focus are also necessary.

How can you motivate and develop yourself at Grape?
I find it motivating and challenging to work in a variety of positions and to get to know people with a wide range of experience and colourful personalities. I can broaden my knowledge even more through the company's courses and lectures. There is also the opportunity to relax with board games, pool, darts, foosball and friendly, welcoming colleagues in the office. In addition, regular team-building sessions also add to the motivation. And most positively, we're a dog-friendly place, so having dogs in the office makes the atmosphere even more fun.

What are the three things that made you proud during your time at Grape?
I feel that I have grown personally and professionally in the last ten months. I have been able to get more involved in the world of IT. I'm proud to be part of a company with an exciting profile and a close-knit community where we really listen to the needs of others.

Why would you advise others to join us?
Beyond the strong team cohesion, there is the supportive strength, resilience and stability of the community and management. Regular team building sessions, surprise days, social experiences and internal presentations. If you are looking for professional, personal and self-confidence development, you will find it here.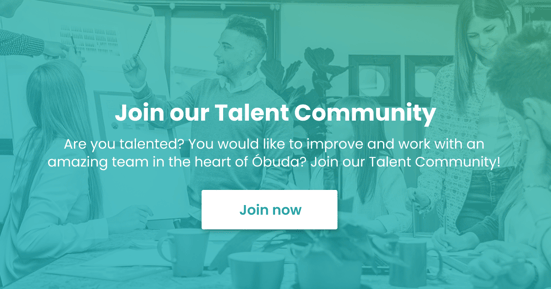 Share this post on social media:
Read On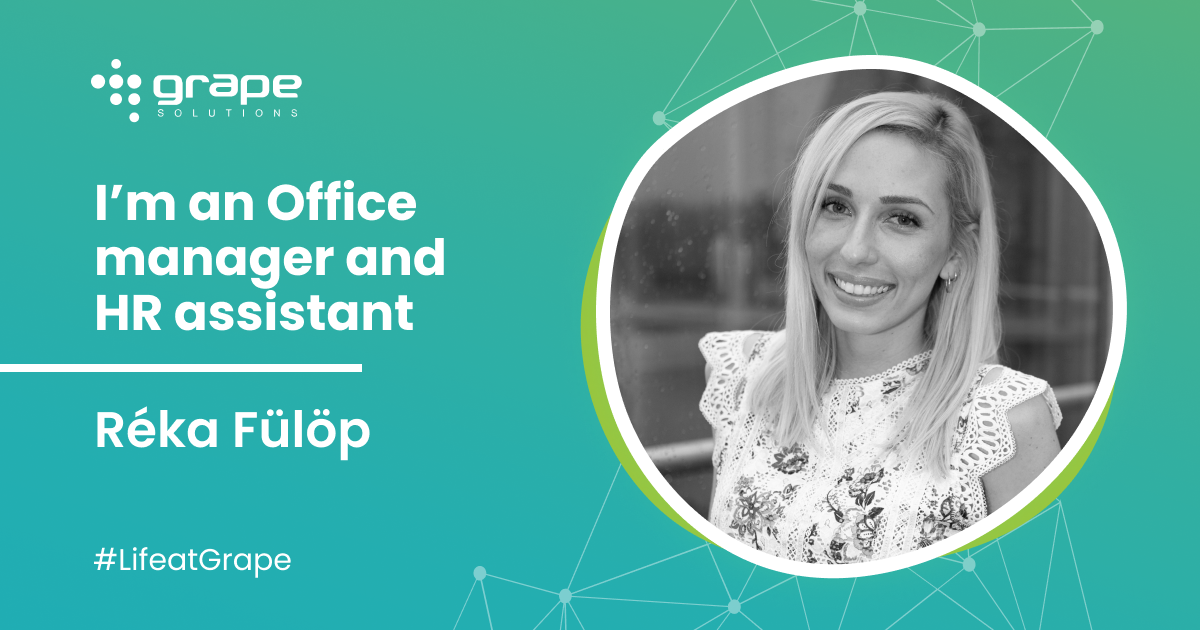 TEAM
HR ASSISTANT
OFFICE MANAGER
Life at Grape Solutions: an interview with our Office manager and HR assistant, Réka Fülöp
Réka is not just our Office manager but a member of our HR team. We asked her to tell us more about her positions, how her daily life at Grape looks.