Life at Grape Solutions: an interview with our Senior Sales Consultant, Géza Misángyi
TEAM
SENIOR SALES CONSULTANT
Géza is a core member of our sales team, he is responsible for creating new partnerships and managing the digitalization of our existing clients in the CEE and Western European markets. We asked him to tell us more about his weekdays at Grape, what a day in the life of a senior sales consultant looks like.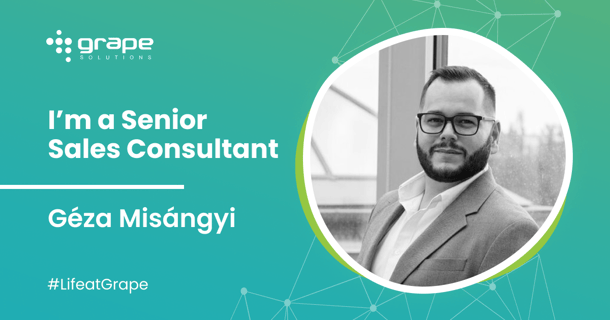 Why did you choose to work at Grape Solutions?
As I have been working in the information technology sector for a long time, I wanted to narrow my proficiency and focus on the software market exclusively; thus, I felt Grape Solutions had everything I needed to succeed.

How does your role look at Grape, and how would you describe it in one sentence?
I work as a senior sales consultant, my main responsibilities include finding new partners and business opportunities in the CEE and Western European markets. Besides acquiring new clients, I'm in charge of helping our existing clients to digitalize their business needs with our turnkey white-label software or unique developments.

What skills do you think are needed for your position?
I believe persistence, dynamics and flexibility are essential for this position. As a sales consultant, you must be ready at any time for unexpected scenarios or immediate client requests to manage projects efficiently and balance in-house relationships with the clients too. Good communication skills are an expectation from us as we are in the first stage where the clients establish contact with the company itself, which means we are the ones representing the quality, what they can expect from us and the company on the long-term.

How can you motivate and develop yourself at Grape?
My biggest motivation is to work with clients and projects of the highest prestige in the Hungarian and international markets. Our clients are mainly enterprises, but we don't stop there as we also help smaller companies to digitalize, which gives me a new motivation to explore the puzzles of the startup and SME sectors. As the number of international clients is growing continuously, I have the chance the strengthen my English knowledge too.

What are the three things that made you proud during your time at Grape?
Since joining Grape Solutions, I've been essential in developing our international business presence alongside my sales and marketing team members. Last year we travelled to 5 different countries, not only in Europe, I'm proud to be a part of it. I regularly receive positive feedback from my clients, I constantly try to find the best solution to their problems. I feel lucky to work in a team that motivates and helps me to achieve my best performance; thus, I'm also available if anyone needs help in various fields.

Why would you advise others to join us?
If you wish to try out various projects in different sectors, don't hesitate joining us!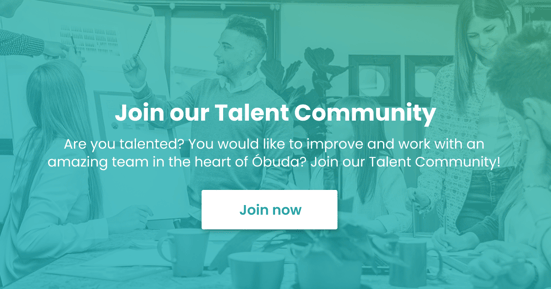 Share this post on social media:
Read On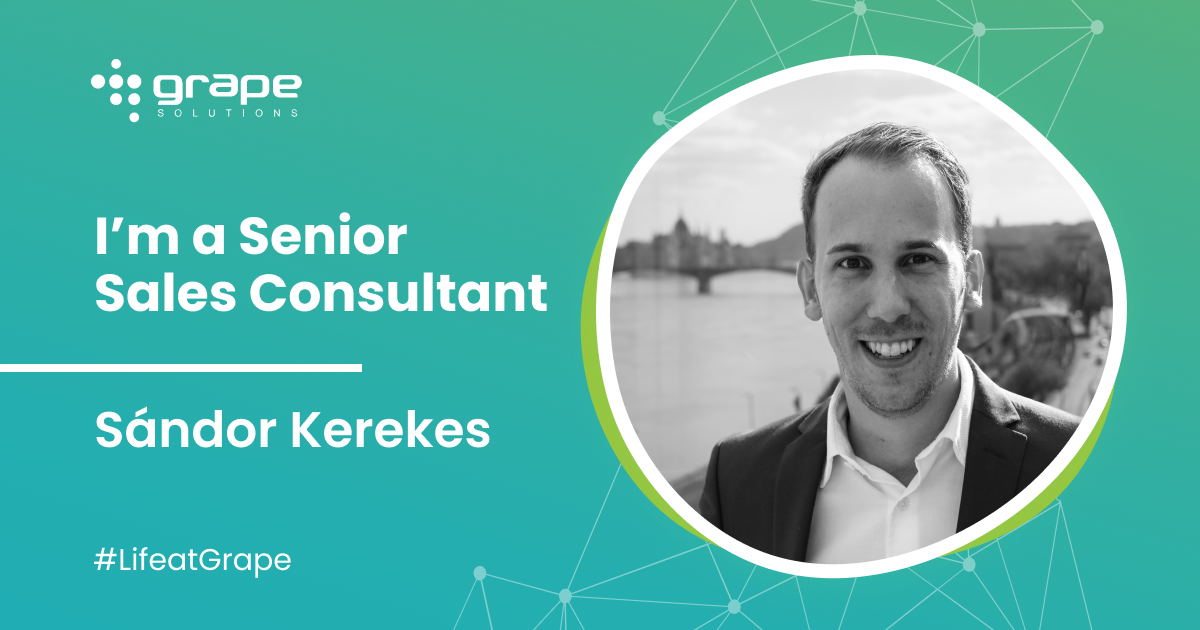 TEAM
SENIOR SALES CONSULTANT
Life at Grape Solutions: an interview with our Senior Sales Consultant, Sándor Kerekes
Sándor is a member of our sales team and responsible for developing new partnerships and ensuring the digital transformation of our existing clients in the domestic and international markets. We asked him to tell us about his weekdays at Grape and what a senior sales consultant's day looks like.